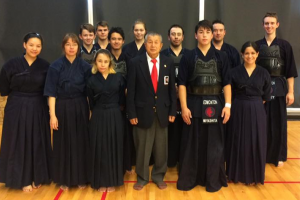 Posted on August 14, 2017 - 03:15pm by Stephen
This past week the Edmonton Kendo Club sent 12 members to Markham, Ontario to participate in the 19th Canadian National Kendo Championships. The championship is held every three years so this occasion was a rare opportunity to show our club's progress on a national stage. What made this event extra special was the inclusion of senior (50+ age) and provincial tournament divisions. Edmonton was able to field a full roster of players for each division, as well as provide the majority of members for the provincial teams:
Edmonton and Alberta Junior Team:
Spencer Check, Avery Nham, Shion Miyashita
Edmonton Men's Team:
Shion Miyashita, Avery Nham, Stephen Hladky, Jason Stelck, Scott Loyie
Edmonton Women's Team:
Brianna Loyie, Julie Robertson, Maxine Gautreau
Alberta Men's Team:
Shion Miyashita, Mikhail Kraskovskiy, Jason Stelck, Stephen Hladky, Kyle Lee (Chinook Kendo Club)
Alberta Women's Team:
Kathy Gee, Nadia Leenders, Flora Chan (Calgary Kendo Club)
Never before has Edmonton sent this many members to a national event. Moreover, this is the first time Edmonton has placed at the Canadian championships. Below are the result highlights:
Edmonton and Alberta Junior team placed 2nd and 3rd in their respective divisions
Alberta Men's Team placed 3rd
Shion Miyashita placed 3rd in the Junior individuals and won a fighting spirit award
Avery Nham won a fighting spirit award
The Edmonton Men's team made it to the quarter finals, tied the McGill Kendo Club in matches won but lost by points
All in all, the Edmonton club made an excellent mark on Canadian kendo at this event. It was a lot of hard work by all team members and they all have much to be proud of for their accomplishments!
Tags: kendo tournament