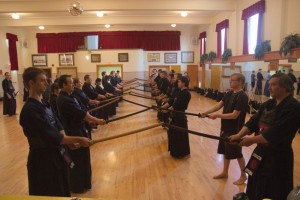 Posted on May 1, 2017 - 04:00pm by Stephen
The summer semester is starting for the Kita Kaze Budo Association! All of our martial arts clubs are transitioning to a the semester-based schedule for admitting new adult students. For the month of May, all new students may try Kendo, Naginata, or Iaido free of charge! If you wish to continue practicing after May, you must register with appropriate clubs before the end of the month.
Please check the website calendar for the times and locations of practices (new students practicing Kendo need only attend the Adult Beginner classes). For your first practice, please bring gym clothing (no shoes or socks are necessary though).
Let's have fun training during the summer months!
Tags: registration